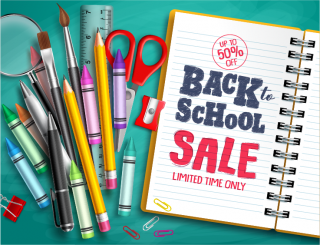 School is starting, and you know what that means—back-to-school shopping! Maybe you remember back-to-school shopping as a kid, when you would go to the store with your parents and pick out everything you needed for the year. You'd get things like trapper-keepers, no. 2 pencils, glue sticks, and clothes that actually fit, unlike the ones you grew out of from the previous year. It was one big shopping trip. But in today's world, back-to-school shopping can look a little bit different. If you don't want to, you don't even have to set foot in a store because everything your kids need is available for purchase online. And the things you'll be buying are different, too. For one thing, trapper-keepers have largely fallen out of style. The bigger change, though, is that technology has taken on a greater role in education, leaving many students with longer (and more expensive) school supply lists. How, then, should you go about school supply shopping in the modern world? Let's take a look at some essential things to know about back-to-school shopping this year.
Is it better to do back-to-school shopping online or in-store?
As with many types of shopping, it comes down to personal preference. Each method has its benefits and its drawbacks. Online shopping can take less time, because there are no lines to wait in or aisles to wander through. However, it can be more expensive due to shipping costs, and if you buy clothes online, you run the risk of having to return anything that doesn't fit. Also, your kids may not have as much fun picking out their new things—school supplies are kind of a big deal for youngsters! Shopping in-store might be a more enjoyable experience for them. That being said, if you go to the store, you may end up spending some extra time deciding between the Spider-Man notebook and the Batman notebook. You also might have a harder time comparing deals between stores than you would if you were on your computer at home.
How can I get the best prices on technology?
One important aspect of buying tech for students is to look for student discounts. For example, Best Buy's website has a whole page of items that have special prices for students. You should also be careful about what you buy. Since technology is expensive, you want to make sure that every item you get is something that your student actually needs. Some schools will provide specific services and devices, so you don't have to purchase them. Additionally, some teachers may not use technology as much as others do. It's wise to check with the school, district, and/or teacher before making any big purchases.
When is the best time to do back-to-school shopping?
Many people get school supplies in August when every store seems to be putting items on deep discounts. Although August is a good time to find sales, you may be able to find even more in September, when stores are trying to get rid of all the extra stock they have. So, keep an eye out in September for really good prices. It might be an excellent time to purchase some items that your student didn't need right away, or you could take the opportunity to get some basics that you know they'll need eventually, either at some point during this year or at the beginning of the next.
There you have it! You now know the basics of back-to-school shopping in 2021, and you're ready to hit the stores (or their websites). Good luck, and as always, feel free to reach out to the VNET team with your technology questions!
Sources: Back-to-School Shopping: August May Not be the Best Month to Shop | TIME.com
Back-to-school shopping in-store vs. online: Who has the better deals? – ABC7 Los Angeles