VNET: Voice Service
Velocity Network voice solutions are carrier-grade, voice-over IP phone solutions that deliver best-in-class capabilities at a fraction of the cost of traditional phone services. Our pricing makes it easy to budget your telecommunications spending with service that includes:
Unlimited Local and Long Distance Calling
Keep Your Existing Telephone Number
Advanced Features such as Caller-ID, Voicemail, Call Waiting and many more at no additional charge
24×7 Local Customer Support
VNET voice solutions are customized to meet the needs of your organization.
Available Voice Services
Simple, Flexible, and Cost Effective. VoIP is the future of voice communications for businesses.
Migrate your legacy PRI services to VNET and enjoy more reliable communications with Unlimited Calling at a competitive rate.
If you're looking to have a national sales presence or to support overseas customers, VNET can develop a customized solution that provides you with toll-free calling and international support.
Moving to a new phone system and want to enjoy scalable communications? Work with VNET to connect your existing PBX or new phone system with an SIP trunk to enable flat-rate and scalable communications for your organization.
Looking for the latest PBX features without the investment in on-premise hardware? VNET's Hosted PBX service provides you with all the capabilities of an enterprise phone system at a per extension cost.
Velocity Network features the latest IP phones from Polycom and Yealink to power your organization. These phones feature HD Audio, Gigabit Ethernet connectivity, and advanced displays.
Bundled price includes unlimited calling in the United States and Canada
Includes advanced features such as Auto Attendant, hunt groups, music-on-hold, and Caller ID
Equipped with a web interface to manage your handset settings
Sangoma Switchvox VoIP Phone Systems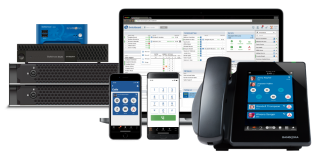 VNET offers on-premise VoIP Solutions from Sangoma Switchvox. Switchvox is the smartest choice for your next phone system. Switchvox's pricing includes all of the features you need for one low cost. With solutions scalable to hundreds of handsets, Sangoma Switchvox is the best choice for an advanced Unified Communications phone system.
As the region's only locally owned telecommunications carrier, our team is available to support your organization 24/7. Regardless of the size of your organization, VNET can deliver a telecommunications solution that works for you. Contact us today to find out how voice service from VNET can help move your organization forward.