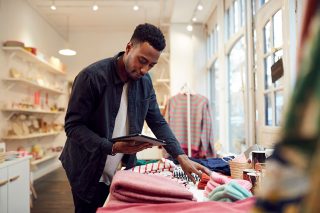 Cloud computing isn't just a solution for large enterprises. The cloud allows better access to applications, more support options, and scalable subscriptions. With a dependable internet connection, the cloud helps small and medium businesses (SMBs) think big while keeping expenses down. VNET has guided hundreds of SMBs to become more mobile, agile, and secure while bolstering their growth potential.
Now that you're considering the move, how should you begin to prepare for the change? Every business is different and faces unique challenges when implementing a major shift in processes and applications. Still, there are a few areas that SMBs should consider when moving to cloud computing. Below are four tips to help prepare your business for the cloud.
1. Consider your existing business applications.
Take an inventory of your current business applications. Are you using primarily out-of-the-box solutions, or are your applications largely proprietary? Do you have security concerns that are challenging or time-consuming to address? Are any of your applications subject to special compliance requirements that make them incompatible with cloud computing?
Understanding which of your business applications could benefit from moving to the cloud will help you understand which type of cloud solution is best suited to your needs. Outdated hardware, for example, can find new life on the cloud either by being upgraded, rehosted, or replaced in the new environment. Conversely, some applications with specific compliance requirements may not be suited to the cloud. By working with a VNET consultant to assess the readiness of your applications, you can eliminate costly or time-consuming surprises.
2. Know the applications you need to grow.
After you've considered your existing business applications, take some time to understand what you believe you will need to support your growth. Are you looking to collaborate more, or do you need file-sharing platforms or monitoring tools? The chances are good that your goals align with cloud-based solutions that can meet your current and future needs. Taking some time to understand and plan where you're going will help you select the right cloud computing solutions.
3. Start small and learn as you go.
One mistake many SMBs make is trying to move all applications, critical records, and data backup processes to the cloud in one fell swoop. Although it may seem like moving all of your business systems and processes at once will make for an easier, faster, and cleaner change, the reality is that most businesses benefit from a gradual approach.
Instead, identify the most critical points and start there. Does your business need a data storage solution? That is a great place to start. Maybe you have old software that can be updated and optimized when you switch to the cloud? Make that change a priority, too.
The key is to identify the areas of greatest need and then methodically shift your operations to the cloud. Once you've moved through each process, stop to take stock. Your VNET vCIO or primary tech can go through that analysis with you.
4. Involve your employees.
Employee buy-in can make or break any major business transition. Resistance to change is common in any workforce. Some of your employees may not understand the need for the shift, while others may see the change as nothing more than a hassle that slows down their workday. For your IT staff, the change could raise questions about job security or stoke existing insecurities.
Get ahead of these potential issues by engaging employees early and explaining how moving to the cloud will help them do their jobs. Suppose your business model allows for workforce mobility. In that case, you might highlight the benefits of better access to applications from home or how new collaborative tools will cut down on paperwork while encouraging teamwork. Brainstorm with your teams to devise a wish list of new or improved functions. Ensuring your staff is an integral part of the process is key to taking full advantage of the benefits of cloud computing.
To get started with a cloud migration or if you just have questions about what VNET can do for your business, email us at sales@vnet.us or call (814) 833-9111.