Streaming devices have become ubiquitous in almost every household. Smart TVs are the norm, and inexpensive streaming appliances can be bought easily for under $30 from the likes of Google, Roku, and Amazon.

But as consumers have become accustomed to viewing more and more films and television from the comfort of their living rooms, many have begun upgrading their home entertainment systems to improve the experience. Larger, sharper 4K screens have replaced aging 1080p TVs. Many of these new TVs offer HDR (High Dynamic Range Color), faster screen refresh rates, and add-on sound systems cable of Dolby Atmos audio.

The competition between the streaming platforms has been heating up as well. While Netflix, Disney Plus, and others compete to offer the most compelling content, they also compete on the technology front by providing sharp 4K streams, HDR, and theater-quality sound. This is where your streaming device comes into play and can be the difference between getting the most out of the streaming service, your new TV, and your surround sound system or wasting all of that potential and money.

So here are some things you'll want to consider when shopping for a new streaming device.

Make sure the streaming device is 4K capable. Even if you don't have a 4K TV today, you're next TV most certainly be. This will lead to a crisper image both in the menus of the device and in the programming that you're watching.
Choose the high-end model if it's in your budget. The new Apple TV (announced on Tuesday) employs the same processor that powers the iPhone XS. In simple terms, this means that scrolling through streaming apps, watching trailers, playing games, and the device's overall responsiveness is going to be much better than that of an older model. Especially the one that may be integrated into your smart TV.
Gain features like voice search ("Hey Google," Siri, Roku, Alexa.) If you like to search using voice commands, you will want a more recent model, so it's better equipped to handle the workload.
To get the most out of your sound system, you'll want to have a streaming appliance with Dolby Atmos sound compatibility.
Make sure the apps you desire are available on the streaming platform. If you subscribe to a streaming TV provider, check to make sure that provider's app is available on the device's store.

Bonus features to look for:

Roku has a remote with a headphone jack so you can listen to the TV privately. The latest Apple TV supports two sets of AirPod headphones paired to the Apple TV via Bluetooth.
Visit a store like Best Buy and demo the products. See which remotes work best for you and make sure that you can control your TV with the included remote.
Investigate the brands and models that work well with your other technology. If you have an iPhone, an Apple TV may empower you to do more with both pieces of tech. The same may be true with Google/Android, Sony, Samsung, Microsoft, and Amazon devices. Often this is referred to as an "ecosystem" or a "walled garden."

Streaming services are here to stay, and with fast internet (from the likes of VNET Fiber) with which to deliver digital entertainment into your living room, the time to upgrade your streaming device has never been more necessary.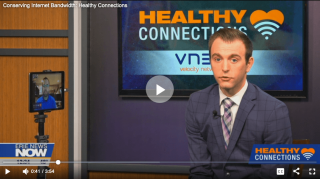 View all the segments on Erie News Now.
Tune in to Erie News Now on Wednesdays at 12:30 PM and 5:30 PM.