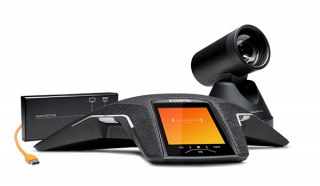 Organizations all over the world are discovering the benefits of cloud-based video collaboration tools. Adoption of video and audio collaboration tools like Microsoft Teams, Zoom, and Cisco WebEx has become the new normal during the COVID-19 pandemic. With a great video and audio solution, you can save time and money, while also holding more effective meetings. The question is – what does the Bring Your Own Meeting trend mean for your organization and the equipment in your rooms (Office Conference Room / Remote Office / Classroom)?
Do you need to develop a hybrid work strategy to ensure your organization operates effectively from the office and home to comply with COVID-19 recommendations?
Velocity Network can help you to pick out the right solution and implement it! Here are five steps that will help you reach your goal:
Needs Analysis
Start by analyzing what needs exist for distance meetings in your organization. How many participants, which service or platform do you want to use and are a number of different alternatives needed – which sometimes might even need to be combined? Involve those colleagues who regularly attend meetings and weigh their needs into the basis for your decision.
Choose Mode of Use
After the needs analysis, it's time to decide which use cases and types of distance meetings are to be supported. There are user-friendly solutions for all services and platforms, also for environments where different technologies and scenarios need to be combined. Focus on the needs of users and let a knowledgeable reseller guide you to the right decision.
Make Room
What are the spaces like where your organization is going to hold video meetings? You don't necessarily need to think in terms of traditional conference rooms. You will probably be needing to equip a number of small rooms, known as huddle rooms. Or set up an unused part of the office that has been furnished to serve as huddle space.
Installation
If you choose the right product, installation is quick and easy, if you don't want to spend time on neat, advanced cable installations. Then all the user needs is a USB cable to their computer, thanks to the smart One Cable Connection, to connect the camera, audio device and display.
In the Meeting
There are a few simple things to bear in mind to ensure a good, high-quality and productive video meeting once everything is in place.

Did you miss out on our last webinar? Check out our latest below!
Konftel Webinar Archive - June 18, 2020
Interested in the latest conferencing and collaboration solutions for your organization? Need training? Complete the form below to be contacted by a member of VNET's team.