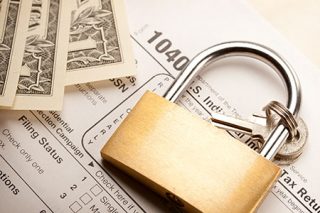 Almost every day the news is filled with stories about the latest data breach that is impacting millions of people across the United States. The chart from CSO below shows the Biggest Data Breaches of the 21st Century – with Yahoo's breach in 2013 impacting 3 Billion People!
Due to the advances in artificial intelligence and the prevalence of technology in all our lives, hackers have more opportunities than ever to prey on unsuspecting victims in society. According to recent data, cybercrime is at an all-time high and has exceeded $1.5 Trillion Dollars in worldwide losses.
As nearly 90 percent of Americans will prepare and submit their taxes online in 2020, hackers are working overtime to scam more individuals than ever before.
Here are a few tips that we have compiled to help keep your personal and professional information safe this tax season.
Protect your personal data as you would your most prized possessions
Quick audience question – Do you lock the doors of your house at night?
For most of us, the answer is a resounding yes (unless we live in a remote area where our only potential intruder might be a friendly woodchuck).
Locking your doors at home is an easy and generally effective method to prevent an intruder from stealing your personal possessions. In the same manner, individuals and organizations need to take similar simple steps to protect their most prized digital possessions.
Just like locking your door is a simple solution for your home, individuals can take simple measures to protect their personal data.
Do not provide your information over the phone to someone stating they are from the IRS
The IRS does not ask for payments or provide status updates on your tax return via telephone calls. If you receive a call from the IRS, it is most likely a robocall designed to scam you into providing information to a hacker. Any official communication from the IRS will be done through the mail and will have the IRS seal on the document. If you received a suspected e-mail or call from the IRS, report it to them to help protect fellow taxpayers.
Double-check online links to Federal, State, and Local tax documents
Hackers know that most individuals and corporations file their taxes online and have set up websites that look like official government sites. These sites ask you to enter your personal information for access but redirect to a sophisticated network designed by the bad guys.
Before completing any on-line forms, double-check the links and make sure they are located at the IRS or other official government entities. If in doubt, use the tried and true method and call your local government office to confirm you are visiting the correct website before proceeding.
Received a suspicious request from a co-worker or Human Resources? – STOP and Verify!
Business E-mail Compromise and impersonation attacks are on the rise as cybercriminals try to infiltrate organizations large and small.
As more and more companies move towards cloud technologies, hackers are becoming more effective at infiltrating internal resources to impersonate trusted individuals to get others in the organization to submit information to the cyber-criminals. Messages from Human Resources or the CEO are quickly opened and responded to by innocent employees – only to find out later that that e-mail was not really from those individuals.
During tax season, we are often anxious to receive a copy of our W-2 or other tax forms to ensure that we can complete our taxes on time – and hopefully score that refund! Hackers play on this sense of urgency and write e-mails to request information to solicit an immediate response.
By responding quickly, the details are often overlooked, and the hackers now have received the data they were looking for through the impersonation attack.
Rather than being the first to reply, individuals should stop and read the message. If it seems suspicious, delete it and contact the individual who sent it via the phone to confirm that it was a legitimate request. By taking a few seconds to review what you are reading and confirm its identity, you can save your organization from becoming the latest cybersecurity victim.
Take the Battle to the Cyber Criminals
Although the cybercriminals are constantly evolving their methods to gain access to your personal and organizational data, your organization is not alone in the fight to keep your data safe.
Velocity Network has partnered with the leading security companies in the industry to help protect organizations from the impact of cyber threats. Preventing the threats start with a multifaceted approach to rethinking security.
Contact VNET today for a Risk-Free Cyber Security Assessment and to learn more about how securing your data should be your number one priority.